Plantation shutters are an ideal way of taking the decor of your house a notch up while simultaneously sheltering your property against the eyes of your sneaky neighbors.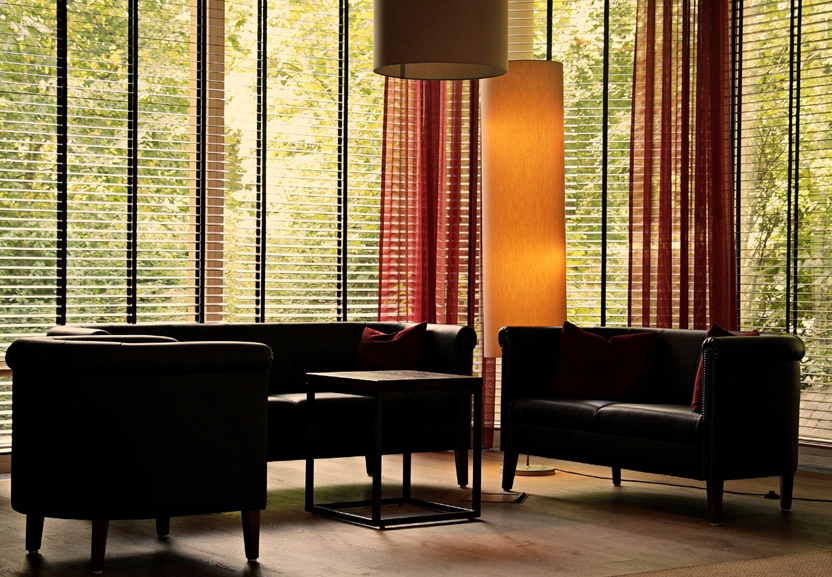 If you just bought your very first plantation shutter and are unsure of how to design it, you have reached your destination. In this guide, we will shine light on some fantastic ideas for installing this gorgeous window covering.
Installing your plantation shutters with other window treatments
Even though plantation shutters are classy and beautiful on their own, pairing them with your regular curtains can further accentuate their look by adding a touch of contemporary to it. The long curtains, when paired to each side, can soften the harsh edges of your shutter. Also, it can be used with tiebacks to ensure that the curtains do not interfere with the view and the operation of your plantation shutter. Panel curtains are usually the preferred option for this.
Also, you can install your shutter on the lower half of your window to get privacy and light control while placing a drapery or valence on the top to try something fresh and unique.
Benefits:
Smooths out the rough edges of the shutters
Provides a more sophisticated look
Better blockage from the harmful sun rays
Does not intervene with the working of the shutter
Installing your plantation shutter on glass doors
Glass sliding doors are the latest trend in the market. They are often employed to boost the house's ambiance by connecting the inside with the outside. Therefore, providing a clear view and lightening up your household.
However, some individuals may find glass doors very exposing. Not to mention their poor heat-insulating properties, which causes your house to toast up during summers. Well, this may not be a problem with these window covers anymore. You can install plantation shutters over your glass doors to protect you from the sun's warmth and maintain your privacy. And that too without compromising on the style and the extraneous view.
Benefits:
Adjustable to keep the house cool in summers and warm it up during winters.
Maintains the intimacy of your household.
Using Shutters to separate rooms
Many houses are now constructed on the open-plan layout. Even though this open-plan concept is clever, you may wish to have a bit more intimacy in some areas. Rather than spending heaps of money on building walls or separate rooms, you can always turn to your plantation shutters.
Sliding plantation shutters serve as an excellent way to divide open areas and provide privacy. In addition, it gives you complete control over how open you want the slats to be and the myriad of color options available.
You can pick a color that harmonizes with your home decors, such as a delicate white for your toilet or a bold pink for your kid's room.
Benefits:
Way cheaper than slashing money on constructing walls
The homemaker can benefit from the wide color range of the shutters
Gives the user absolute control over the level of seclusion they require
Installing your shutter on the wall
Sometimes, a simple exhibit of some beautifully carved plantation shutters on your walls could be enough in pulling the whole look together. From displaying a shutter on top of your bed attached to some mirror to sticking it on either side of an artwork, a plantation shutter can help you achieve a well-garnished home with minimal expenditure.
Benefits:
Simple and easy way to take your decor a step further
Economical
Installing plantation shutter with different mounting
Another way of installing your shutter is to determine how you want them mounted on your window. Plantation shutters can either be mounted inside or outside the window frame, each responsible for creating a distinct look.
It insulates the window while simultaneously providing a cleaner and sleek look when mounted inside. However, windows with smaller frames may not be accommodating enough for the inside mounting, and thus you will have to install the shutter outside its frame. Outside mounts extend the depth of your windows and are great for minimizing light blockage, which is a common problem with the inside mounts.
Benefits:
Inside mount plantation shutters hide the window frame's imperfections, consequently giving a neat and trimmed finish.
Outside mount plantation shutters do not interrupt the windows from opening inwards and maximize the view.
Installing your shutter with a divider rail
A divider rail or a mid-rail is basically a fixed pole-like barrier separating the top louvers from the bottom. It allows the two compartments to be operated alone, without depending on each other.
Many users opt to install their plantation shutters with divider rails to lend themselves additional privacy. Synonymous to tier-on-tier, shutters featuring a mid-rail can be opened from the top to let the air and sunshine in while the bottom louver remains shut.
Shutting the bottom half can create a wall-like space in rooms where long windows, from the very ceiling to the floor, are present. And just like that, leaving the top louver open can promote airflow throughout the house. This very reason makes divided plantation shutters a sought-after window treatment in hot locales.
Benefits:
Encourages ventilation inside the house
Perfect solution for big and lanky windows
Conclusion:
Plantation shutters are excellent for open areas, kitchens, living rooms, and practically every part of your house. Aside from their classic installation on windows, they are adjustable in many fun ways to give you better control and beautiful results.